PLENARY LECTURE: From lab feasibility studies to full scale manufacturing, an overview of Biocatalysis at Novartis Pharma - A journey towards sustainable catalysis
Abstract
The gradual implementation of Biocatalysis within Novartis Pharma will be presented over various projects. From enzyme users, we became enzyme designers with the recent implementation of the CodeEvolver technology from Codexis in our Development projects. Our journey towards new and sustainable catalysis, the in-licensing of protein engineering and our efforts to change culture in favor of early implementation of Biocatalysis will be presented.
 
Selected publications:
[1] Application of Transition-Metal Catalysis, Biocatalysis, and Flow Chemistry as State-of-the-Art Technologies in the Synthesis of LCZ696 Journal of Organic Chemistry; vol. 85; nb. 11; (2020); p. 6844 - 6853
[2] Toward a Scalable Synthesis and Process for EMA401, Part III: Using an Engineered Phenylalanine Ammonia Lyase Enzyme to Synthesize a Non-natural Phenylalanine Derivative Organic Process Research and Development; vol. 24; nb. 9; (2020); p. 1763 – 1771
[3] Biocatalytic assembly of chemically modified oligonucleotides Tetrahedron Letters, Volume 93, 16 March 2022, 153696
[4] A Bio-logical Approach to Catalysis in the Pharmaceutical Industry  Chimia 74 (2020) 407–417
[5] The search for natural catalysts - Novartis Live. Magazine
About the Speaker(s)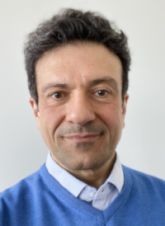 Thierry Schlama has 24 years experience in chemical processes and innovative technologies development. He started his career in 1997 at Rhone Poulenc, developing new routes to pharmaceutical intermediates and has been instrumental in the industrialization of the Hydrolytic Kinetic Resolution technology invented by E.Jacobsen lab and  Buchwald amination through strong collaboration with Harvard University and MIT. He joined Novartis in 2006 where he held different roles within Chemical R&D organization. Recipient of the Novartis Innovation Award (VIVA) award in 2017, Thierry has been instrumental in building strategic partnerships, creating innovation platforms,  and leading biocatalysis implementation within CHAD organization from early to full scale manufacturing. Author of several publications, patents and book chapters, Thierry holds a PhD in Organic Chemistry from the University of Strasbourg and he's passionate of changing the way we do organic chemistry using the power of enzymes. He's  the Director of the Biocatalysis activities in Novartis Chemical R&D.
Education
1993 Ecole Supérieure de Chimie Industrielle (ESCIL-CPE Lyon).
1993 Master Organic Chemistry (Lyon, France)
1994-1995 Institut Français du Pétrole. Prof. Y. Chauvin (Paris). Nobel Price 2005.
1994-1997 PhD in Organic Chemistry (Charles Mioskowski, Strasbourg University, France).
Career
1997 Rhone-Poulenc/Rhodia (Lyon, France).
2006 Novartis Pharma (Basel, Switzerland).
Several positions: Group Head, Network Leader, Director Biocatalysis.
Awards/Honors
Chemical R&D Awards: 2012, 2015 & 2019.
VIVA Award at Novartis: 2017 (Highest scientific distinction).
Technical R&D Innovation awards: 2015 & 2016.
MIT award: 2012 (collaboration on Continuous Manufacturing Technologies).