Bioeconomy strategies for a sustainable future
Abstract
The European GreenDeal sets the EU's ambition to become climate neutral by 2050, safeguarding people, planet and prosperity. The transition to a modern, resource-efficient, prospering and competitive economy, in which environment, health and wellbeing are priorities, requires deep and widespread action across all sectors of the  economy. The bioeconomy policy, with its systemic and cross-sectoral perspective, helps us to identify and resolve trade-offs, for example on land and biomass demands, and enables countries and regions to design transition pathways according to their specific challenges and opportunities. Hence, the bioeconomy plays a crucial role in  achieving the objectives of the European Green Deal, and help us to find solutions for the current food security and energy independence crisis caused by the Russian invasion of Ukraine. The European Commission has been working on bioeconomy policy for more than a decade, with the adoption of the first Bioeconomy Strategy in 2012.  While the objectives of the updated EU Bioeconomy Strategy from 2018 remain relevant, some gaps remain in the further deployment of the sustainable and circular bioeconomy.
About the Speaker(s)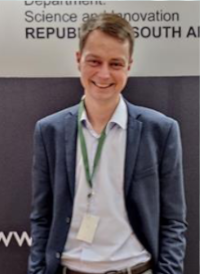 Roman Brenne is a Policy Officer in the Bioeconomy & Food Systems Unit of the Directorate-General for Research & Innovation at the European Commission, mainly responsible for the implementation of the 2018 updated EU Bioeconomy Strategy and International Bioeconomy Cooperation. Roman has a Master of Science in International Politics from Trinity College Dublin and a Bachelor of Arts in History and Political Science from the University of Wuppertal. He started his career with the business consultancy Accenture in Dublin and joined the European Commission in March 2017.