Synthetic Biology for Carbon Neutrality
Abstract
Much of today's excitement regarding the role that biotechnology could play in the larger economy is due to the advent of the field of synthetic biology, which promises to add value beyond biopharmaceuticals, medicine and agriculture, because it has the potential to revolutionize processes in materials, chemicals, fuels, and potentially  information technology.
Synthetic biology is the discipline entailing the design and construction of new biological systems or redesign of natural systems, with the overall goal of making biology more engineerable. As synthetic biology is an emerging and cutting-edge area of biotechnology, development in this area may serve as an indicator of innovation in biotechnology.
Specifically, the synthetic biology field of metabolic engineering, in which organisms are engineered for synthesis of new products using new biological pathways, enables the biological production of chemicals formerly made from plants or animals that were hard to cultivate, or were formerly made from petroleum, which results in net-CO2  emission.
The Inter-governmental Panel on Climate Change (IPCC) recently published their Sixth Assessment Report on Climate Change. The report gives certainty that with all emission scenarios considered, global temperatures are set to reach the 1.5 degrees Celsius mark by 2050. Warming beyond this point could be avoided by the end of the Century if the world can achieve net zero CO2 emissions by 2050. A sustainable and circular bioeconomy is one of the ways to ensure globalnet zero CO2 emissions. Synthetic biology definitely opens up new possibilities for carbon-neutral production of useful products.
This presentation will briefly review the global development of synthetic biology, followed by introducing the synthetic biology initiatives/capabilities in China, with focus on the design, engineer, and synthesis cells of industrial relevance/importance, i.e. biological carbon fixation and bio-based manufacturing.
About the Speaker(s)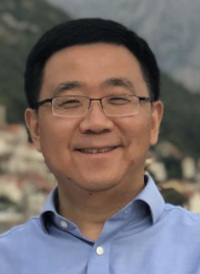 Yin Li is a Professor at the Institute of Microbiology, Chinese Academy of Sciences, In China. He holds a BSc (1995) and a PhD (2000) degrees in Fermentation Engineering from Jiangnan University, also in China. He did his post-doctoral research in the Netherlands and Ireland. He was appointed as Visiting Professor by CornellUniversity in the US.
His research interests are in the industrial biotechnology, with focus on conversion of carbon dioxide into organic matter, and then into useful products. Using synthetic biology and metabolic engineering approaches, his studies aimed at developing novel biocatalysts that contribute to the development of sustainable bio-based manufacturing industries. He has published more than 160 papers in peer reviewed journals including Science, Nature Communications, PNAS etc., with an H index of 44.
Presently he is serving as Member of the Scientific Board of International Basic Science Programme of UNESCO, Member of the International Advisory Council on Global Bioeconomy. He was awarded the TWAS Regional Prize for building scientific institution in 2012, SCOPUS Young Researcher Award in 2010, the Second Prize of China  National Science and Technology Progress Award in 2006, and the First Prize of China Petroleum and Chemical Industry Technology Invention Award in 2003.