PLENARY LECTURE: Development of industrial biocatalytic processes: from screening to (pilot) plant
Abstract
InnoSyn BV is a young SME of about 60 employees originating from a spin-out of DSM's biocatalysis, chemocatalysis and organic chemistry R&D department Innovative Synthesis. InnoSyn BV provides services for all phases of process/product/technology development starting from idea generation all the way to running business. The over 25 years of experience and history as chemical R&D group at DSM (both fundamental research & chemical process design) has resulted in a broad synthetic competence base, using the most innovative technologies in e.g. biocatalysis, chemocatalysis and flow chemistry. New routes to a wide range of chemicals for all kind of markets were successfully developed and implemented.[1-3]
In the recent years we have focused our biocatalytic technology and process development on the selective introduction of oxygen- and nitrogen-functionalities into target molecules as well as oxidative biocatalytic processes using oxygen in a safe and efficient manner. Furthermore, we have expanded our in vitro and in silico screening techniques to accommodate organic solvents at any concentrations and significantly speed up enzyme hit identification by AI enabled high-throughput virtual screenings. These enable us to screen only a subset of our large enzyme collection, directly under process-relevant conditions.

In this contribution we will highlight recent achievements in in vitro and in silico enzyme screening, biocatalytic process development and pilot plant demonstrations of our biocatalysis technology.

References
[1] H. E. Schoemaker, D. Mink, M. G. Wubbolts, Science. 2003, 299, 1694.
[2] M. Schürmann, M. Wolberg, S. Panke, H. Kierkels, in Green Chemistry in the Pharmaceutical Industry (eds P. J. Dunn, A. S. Wells and M. T. Williams) 2010, Wiley-VCH Verlag GmbH & Co. KGaA, Weinheim, Germany.
[3] M. Schürmann, in Industrial Enzyme Applications (eds A. Vogel and O. May) 2019, Wiley‐VCH Verlag GmbH & Co. KGaA, Weinheim, Germany.
About the Speaker(s)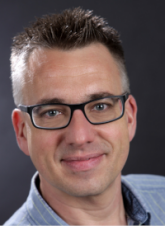 Martin Schürmann is Principal Scientist for Biocatalysis at InnoSyn BV in Geleen, The Netherlands. InnoSyn is a young SME that originated from a management buy-out of the DSM chemical R&D department Innovative Synthesis in 2017. Before he held the position of Principal Scientist Biocatalysis at DSM as well as various other R&D positions after joining DSM in 2002.

Martin Schürmann studied Biology at Ruhr-University Bochum and performed his PhD thesis and a short Post-Doc at the Institute of Biotechnology at the Research Center Jülich in Germany, obtaining his PhD from Heinrich-Heine-University Düsseldorf in 2001.

Martin Schürmann is co-author of more than 70 peer-reviewed scientific articles, book chapters and international patents or patent applications. From 2015-2017 he was coordinator of the EU Horizon 2020 Innovation action ROBOX, a project to develop novel biooxidation enzymes and demonstrate their application on pilot plant scale. Next to being member of the Scientific Board of ESAB (European Society for Applied Biocatalysis), Martin is since 2021 also co-chair of the joint working group Biotransformations of DECHEMA and the German Association for General and Applied Microbiology (VAAM). Since 2021 he is a member of the American Chemical Society Green Chemistry Institute Pharma Roundtable Biocatalysis team.

His main interests are applied biocatalysis, microbial production of chemicals and green chemistry (chemical route scouting for more sustainable production processes), especially bridging the gap between academic and industrially applied biocatalysis.

Professional Experience
Since May 2017    Principal Scientist Biocatalysis at InnoSyn B.V. in Geleen (The Netherlands)
2016-2017    Principal Scientist Biocatalysis at DSM Chemical Technology R&D in Geleen (NL)
2013-2015    Senior Scientist Biocatalysis at DSM Chemical Technology R&D in Geleen (NL)
2006-2013    Scientist Biocatalysis at DSM Pharmaceutical Products in Geleen (NL)
2004-2005    Associate Scientist at DSM Pharmaceutical Products in Geleen (NL)
2002-2004    Marie-Curie Industrial Host Fellowship (Post-Doc) at DSM Pharmaceutical Products in Geleen (NL):  Optimisation and Industrial Application of Aldolases
Education
2001-2002     Post-Doc Institute of Biotechnology I, Research Center Jülich, metabolic pathway engineering of aromatics in Escherichia coli
1998-2001    PhD (magna cum laude) on C-C bond forming enzymes, Institute of Biotechnology I, Research Center Jülich (supervisors: Prof. G.A. Sprenger & Prof. H. Sahm)
1992-1998    Biology studies with Diplom graduation at Ruhr-Universität Bochum, thesis with Prof. K.-E. Jaeger: Microbiology, Biochemistry, Molecular Biology